---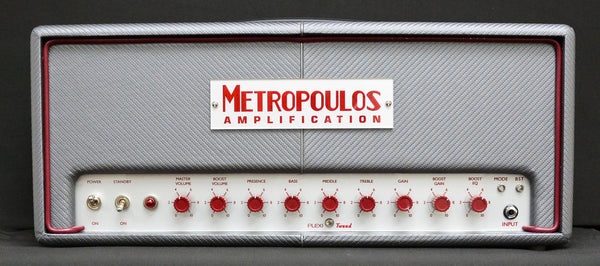 The first ever 50 watt Metropoulos designed amp! 

Everything to LOVE about the big brother Super-Plex MK II 100 watt, but in a size you can carry on a flight. 

For the player who demands authentic early plexi tones along with modern versatility and practical form factor:  The Super-Plex MK II 50 watt head.  

Only 22" wide.  The smaller-than-smallbox headcab is compact enough to fit in the overhead compartment on commercial flights.

 All the connections and functions needed for every playing situation.

My new master volumes delivers cranked plexi tones at any volume level.
Classic plexi tone stack with PLEXI/TWEED switch.
 Full footswitch access to all functions.  Zero Loss FX loop.

AC voltage switch.
LED indication of MODE and BOOST status.
Power and impedance options to accommodate any situation.
50 watts output with FULL, HALF and LOW settings
22" x 9" x 8"
32 1/2 pounds
45/100 tones (BLUE) hotter 45/100 tones (RED)
built in high voltage BOOST (PURPLE)
Zero Loss FX LOOP with level switch (footswitchable)
switchable AC operating voltage 120-240V AC
PLEXI / TWEED voicing switch (footswitchable)
included 3 button footswitch
silver carbon fiber motif with crimson trim
PLEASE NOTE:  THESE AMPS ARE BUILT TO ORDER.  ALL ORDERS ARE FINAL.  NO RETURNS, NO CANCELLATION, NO REFUNDS.  ANTICIPATED LEAD TIME IS 4 WEEKS ON THIS INITIAL RUN.  PLEASE DO NOT PLACE AN ORDER IF YOU DO NOT AGREE WITH THESE IMPORTANT TERMS.