---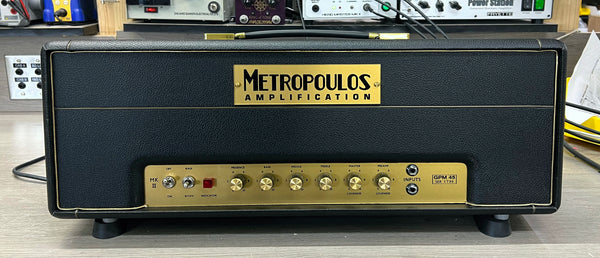 First amp in my new the Emulation Series, the GPM 45-1796 authentically captures the tone, feel and essence of George's own block end JTM 45 serial # 1796 from 1966.
 This amp gets it's name from the original.  I zoomed into a high res pic of the original serial number and traced it.  The quirky letters and numbers are faithfully recreated in the GPM 45 logo.

Appealing plexi aesthetics are maintained in the GPM design. 
The rear panel hosts modern functionality.
Hybrid construction offers the best of both Worlds. 
Get your JTM 45 fix with the versatility for any situation.
 SPECS:
Historically accurate "smallbox" headcab
aluminum chassis
gold front panel, white rear panel
approx 38 watts from a pair of KT66 output tubes
tube or solid state rectifier (switchable)
hybrid construction (turret board, pc board)
Zero Loss FX loop
new opto based master volume
The theory behind the design:
Why emulate rather than replicate?  Great question!  I've built hundreds of replicas and spent over two decades working to discover what makes vintage amps sound the way they do.  When the Audio Precision entered my life, it took analysis and understanding to exponential new levels.  I've swept every part of every favorite old plexi many times now.  I have an archive of info and full DNA samples to reference.
Armed with this data, I set out to finally achieve the overwhelming mandate of my design life: provide authentic plexi tone and feel without being indelibly tied to sheer volume. 

Everyone who has ever played my 1968 Superlead, or 1966 45/100 or block end JTM 45 or 1959 Bassman will agree, each one is amazing and unique.  A player's dream.  They would also agree that something is required to deal with volume. 
Disconnecting clipping, tone, sustain and harmonics from volume level is paramount.  To do this effectively and with authenticity, I chose to emulate the clipping, harmonics and dynamics measured in the phase inverter, power tubes and output transformer with a circuit in the preamp.  Followed by an FX loop, my new master volume and a true to the original amp tube power amp.  I'm certainly not the first to do this, Marshall led the way with the iconic 2203 and 2204 Master Volume designs in the mid 1970's.

With my circuit topology in place, I started at the input jack, sweeping the original amp and the emulation amp side-by-side, stage by stage and tweaking until they are identical.  Analyzing signal level, frequency response, THD and phase shift allow me to emulate the original circuit along with it's idiosyncrasies.  Component values drift over time, pots have huge value tolerances and so on.  I can't just plug in part values from schematics.

This approach was first fully realized in Mode A of the Super-Plex MK II which replicates my 45/100.  That also introduced my new master volume.  Once the concept was proven, my path was obvious.  Emulating my favorite amps liberates me from the limitations of building a warts and all replica.  I can "fix" less than ideal circuits, optimize power supplies and grounding, push the tonal limits of vintage amps and improve reliability for modern tubes.

Just as the Super-Plex MK II starts with stock 45/100 tone and expands on it, any emulated amp can be a building block and basis to new frontiers in timeless tones.
Watch for more emulations of my favorite vintage amps. 

PLEASE NOTE:  THESE AMPS ARE BUILT TO ORDER.  ALL ORDERS ARE FINAL.  NO RETURNS, NO CANCELLATION, NO REFUNDS.  ANTICIPATED LEAD TIME IS 4 WEEKS ON THIS INITIAL RUN.  PLEASE DO NOT PLACE AN ORDER IF YOU DO NOT AGREE WITH THESE IMPORTANT TERMS.